Well it´s been a while, not sure how long. I guess the last time was back in 2021.
Since then we had the flood (July 2021). On the 14th July we had no electricity, no Internet and more. You know what back than was the best Birthday gift  on the 16th July. We got electricity back. The days between i was happy to have a cup of warm tea on the streets with friends and neighbors, or a coffee. Luckily some had generators. I remember when we cleaned up together. How people helped others, even stranger. I had luck that i only lost some stuff from the basement. Some lost everything and sadly some lost their lives. I never expected that something like that would happen here.
The start of 2022 was okay, with some struggles like always. I thought this is going to be a good year. Haha, man was i wrong.
In the beginning i had one of my nieces here for some month, but that´s not a story i wanna tell everyone. But it often triggered my Fibro.
For august I planned a surgery to remove the knot in my left breast (found in Mai 2021). It started to grow to fast, even if it is an Fibroadenoma i wanted it to be removed. Guess what, Corona said NO to my plans.
2 days after my Birthday in July i got Corona. After Corona was over i got a lung infection. So i needed some weeks to recover. Finally in November i had my surgery to remove the Fibroadema. Surprisingly i felt perfect after the surgery. No Fibro symptoms for some days.
Sadly a week later i got the result no one wants to hear. They told me that i have breast cancer. I was shocked, because back than in 2021 the biopsy result was Fibroadenoma. So i had a second surgery in December to remove more and also to check the lymph nodes. Luckily the cancer was only in my breast. Yes, i had all the examinations needed to check my lungs and more. But also sadly they told me that they have to remove my left breast, because the cancerous knot was to huge. Means another surgery.
I talked with my docs and we decided to do the surgery in January so that i could spend Christmas and New Year with my Family. And also to gain some energy and to let my body get some rest.
January 2023, was the last surgery so far. This one was to much for my body. Since then my Fibro is on Powermode and not in a good way. I got an expanter (to rebuild my breast) and also a port (for Chemo), all in the same surgery.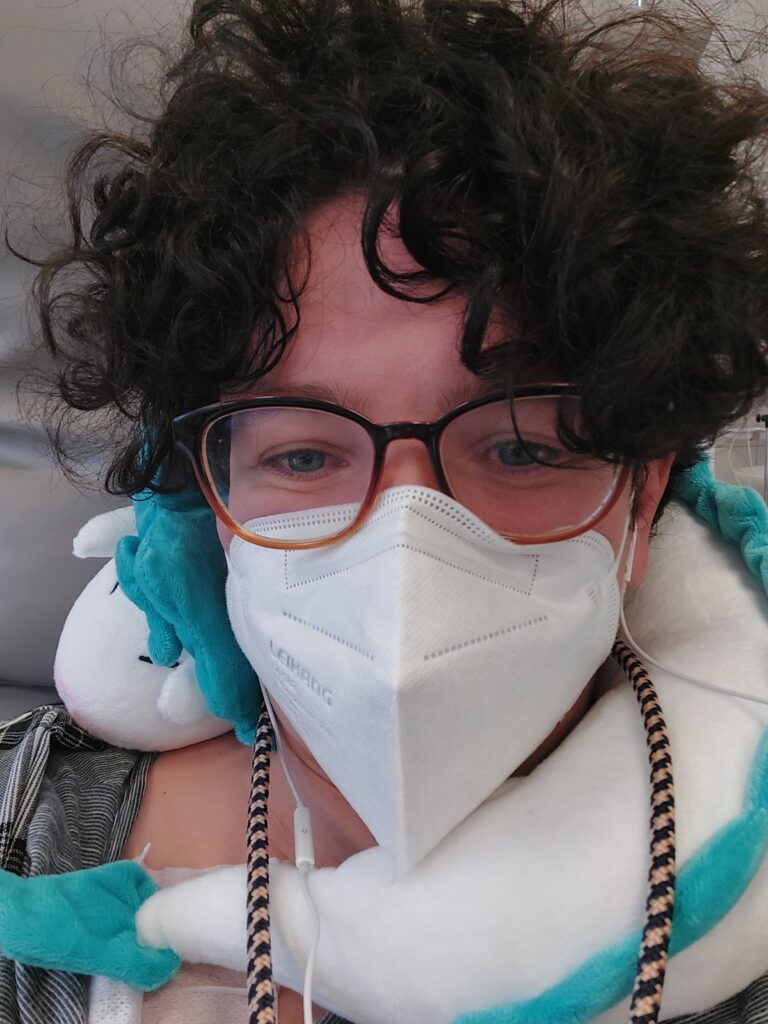 Now it´s the end of March. I still have the Fibro on Powermode, but that´s not a surprise for me. I´m happy that i can use my left arm again. Still not like before, but i can. I go for walks with my dog everyday and as often as possible. Right now i have the feeling nature can give me some energy back.  Right now i´m in the middle of Chemotherapy. I no more have my long curly hair. Cut it short before the 3rd surgery, now it´s only some millimeters and i lost alot. But still have some hair after 4 times Chemo, that´s  a good thing.  Right now i have my chemo weekly (12, 4 already done) and than the plan is 4 times 2 weekly. Let´s see what happens after that.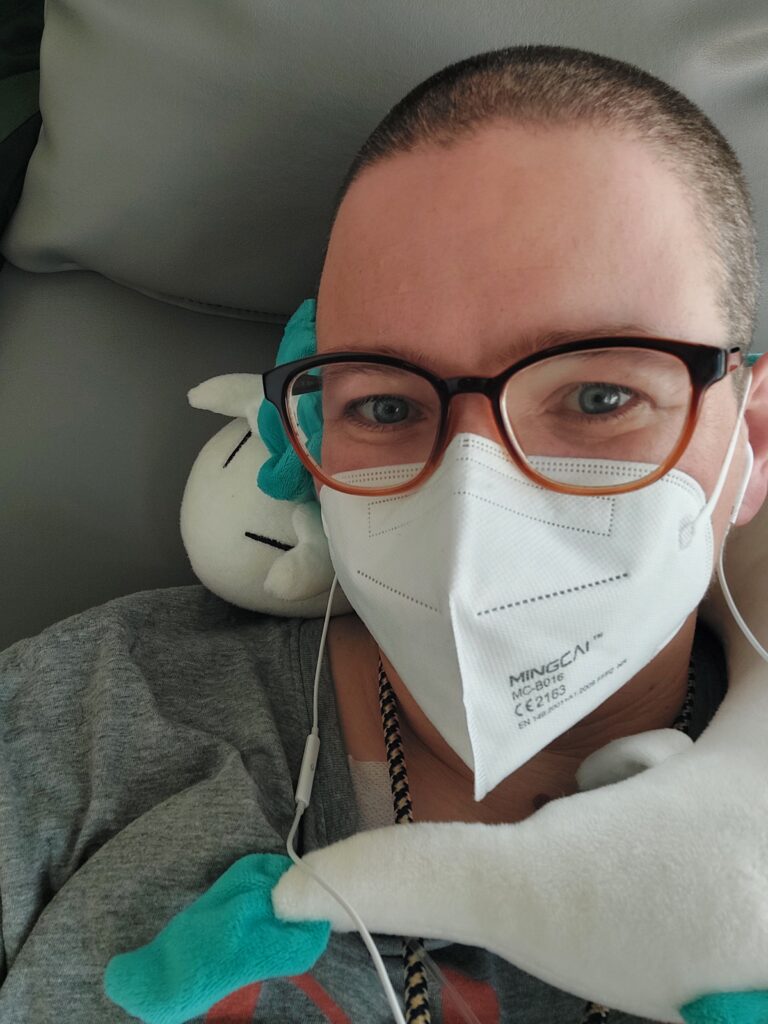 I´m lucky that i have awesome doctors. That really made it all easier for me. I could also talk with all of them about my Fibro and that i´m afraid that everything get´s worse. They told me what could happen, and what i can too. I´m not sure if that´s normal, but if i would i could call my oncologist in the middle of the night if necessary. I hope i never need to do that, but just that it´s possible feels good.
I still try to think positive. The biopsy result said that there is no more cancer in my body, so far my body can handle Chemo. Since i´m a Winchester (Supernatural Fans will unterstand) i can handle that. I always tell my friend Steph that i´m "Winchester fine" when i feel horrible.
My wish for this year that i get back to my healthy before all the surgeries. That´s still not perfect, but i was able to do so much more than right now. I always need help. Luckily my family and friends are there to help me.
There is also another good thing about it, i can more beanies, caps and hats. Here are some of them. The K-Heart one is from a friend of mine. I defenitly need more for warmer weather.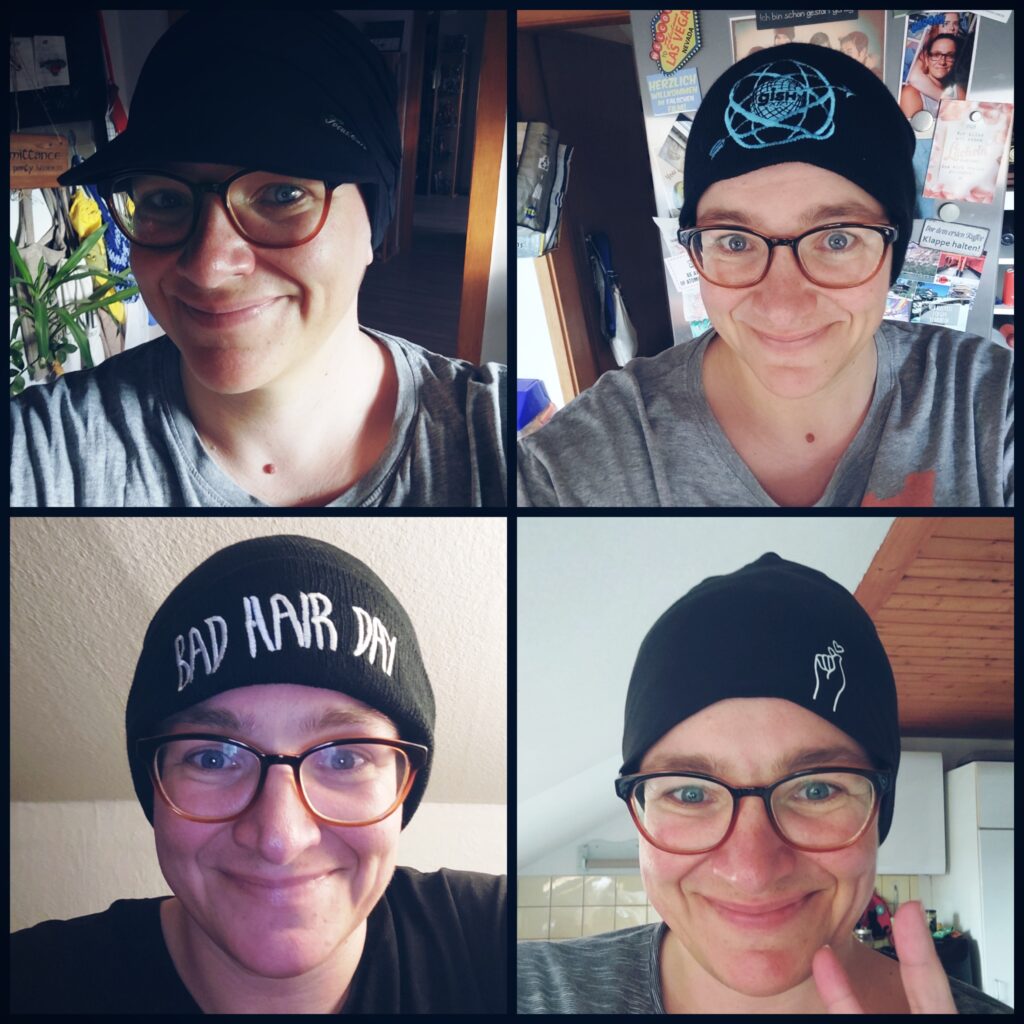 To close the post for today i will share with you my lucky charm for the time. I had my Wolf Chan always with me when i had surgery and still have him with me to important appointments. The sweet outfit he is wearing is a gift from my niece.